Pregnancy Chiropractic Care in York
You just found out your pregnancy is not going as planned. You want to avoid a C-section if you can help it. Your mind is swirling.
What options do you have? Are they safe? Are there successful, natural methods available?
Our answer to you is YES!
Discover the benefits of safe, natural, non-invasive York pregnancy chiropractic!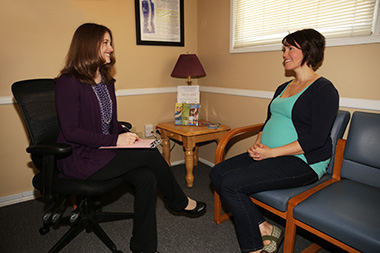 Guess what? According to the International Chiropractic Pediatric Association (ICPA), prenatal chiropractic care can help reduce the chances for Dystocia (abnormal/ difficult labor) for most pregnant women, too!
Dr. Jim Sheaffer, a certified Webster Technique Chiropractor, has been helping pregnant moms in York, PA throughout his career since 1993. Pregnant patients have come to enjoy the benefits of his quick, effective treatments.
As your body changes to accommodate the little one (or little ones), it needs extra support and proper alignment to function optimally. Dr. Sheaffer checks all pregnant moms using the Webster technique to optimize the neurologic and biomechanic function of the sacrum and pelvis.
This special Webster adjustment has been used for years as a safe means to restore proper pelvic balance and function giving your little one the best chance to get into the proper position for delivery. Correction is made with a gentle, sacral adjustment. It's simple, non-invasive and can mean the world of difference for you, the baby and the delivery.
The Webster Technique Can Help
While Dr. Sheaffer enjoys helping pregnant moms throughout their term, each case is different, but the truth remains: Dr. Sheaffer's natural, safe, and non-invasive, time-tested, proven Webster Technique is one option you can't afford to ignore!
Regardless of what brought you to us, whether you have a few hours or 9 months to work with, as Dr. Sheaffer says, "It's never too late in pregnancy to start getting adjustments." What's good for mom is good for baby, too!
Want to learn more about the Webster Technique or the International Chiropractic Pediatric Association? Check out the ICPA's website today! And when you're ready to get started on York pregnancy chiropractic care, give Sheaffer Family Chiropractic a call to get started.
Don't delay! Get started with our York pregnancy chiropractor.